The presence of EURO24 on the Forbes Diamonds list is a great honor for us and a motivation for further development.
Joining such an elite group of Polish companies proves that the strategy chosen by the organization is not only effective, but also noticed by respected experts.
Forebes Diamond Ranking is one of the most prestigious ranking of companies that have most effectively increased in their value in the last three years. The company must meet a number of requirements. The key criteria was included: financial results, value of assets, payment history, payment reliability.* source www.forbes.pl
In the article you will read:
« You can't ignore the role of a human in transport services, no matter how technologically advanced solutions are introduced within the company.
Today's transport is a modern rolling stock, a complicated logistics processes and specialized software. Still, it is a human being that plays the vital role. The TSL industry includes drivers, carriers, freight forwarders, sales department and administration. It is the people who set the pace and direction for the use of technology and knowledge. An investment in experienced professionals with the simultaneous improvement of the quality of tools and technological solutions are inscribed in the DNA of every company aspiring to be the leader.
Human-made transport
Regardless of whether it is a transport service or employee development path, the right strategy and processes of team management are key to fully use the available potential. At EURO24, we not only choose our co-workers carefully, but also try to develop their talents, leaving room for creativity and own ideas. Nevertheless, it is our customers who create market needs and it is thanks to them that we have a chance to precisely indicate the areas for improvement in our internal standards. We listen carefully to all opinions, and implement these information into our development strategy.
Just in Time deliveries
Due to the fact, that most of our clients make deliveries in the "Just in Time" system, we are available for them 24 hours a day, 7 days a week, so that the flow of information between the operational department and the client is as efficient as possible and the slogan "Always on Time" is always up-to-date. EURO24 has built its position on express transport services, the largest recipient of which is the automotive industry. The high standards of our services have been appreciated by the largest players in the automotive and aviation sector throughout Europe.
Today, EURO24 consists of 3 dynamically operating locations in Poland: Rzeszów (since 2007), Katowice (since 2020), and Wrocław (since 2021), and 3 foreign branches: England (since 2011), Germany (since 2013) and Spain (since 2015).
However, don't let our name, EURO24, fool you. We are open to cooperation with partners from outside the Old Continent, as our goal for the next few years is to maintain the position of a leader and a guarantor of reliable and quality shipping in Europe and outside its borders. »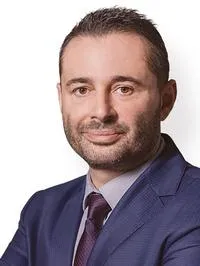 Rafał Żyliński, CEO